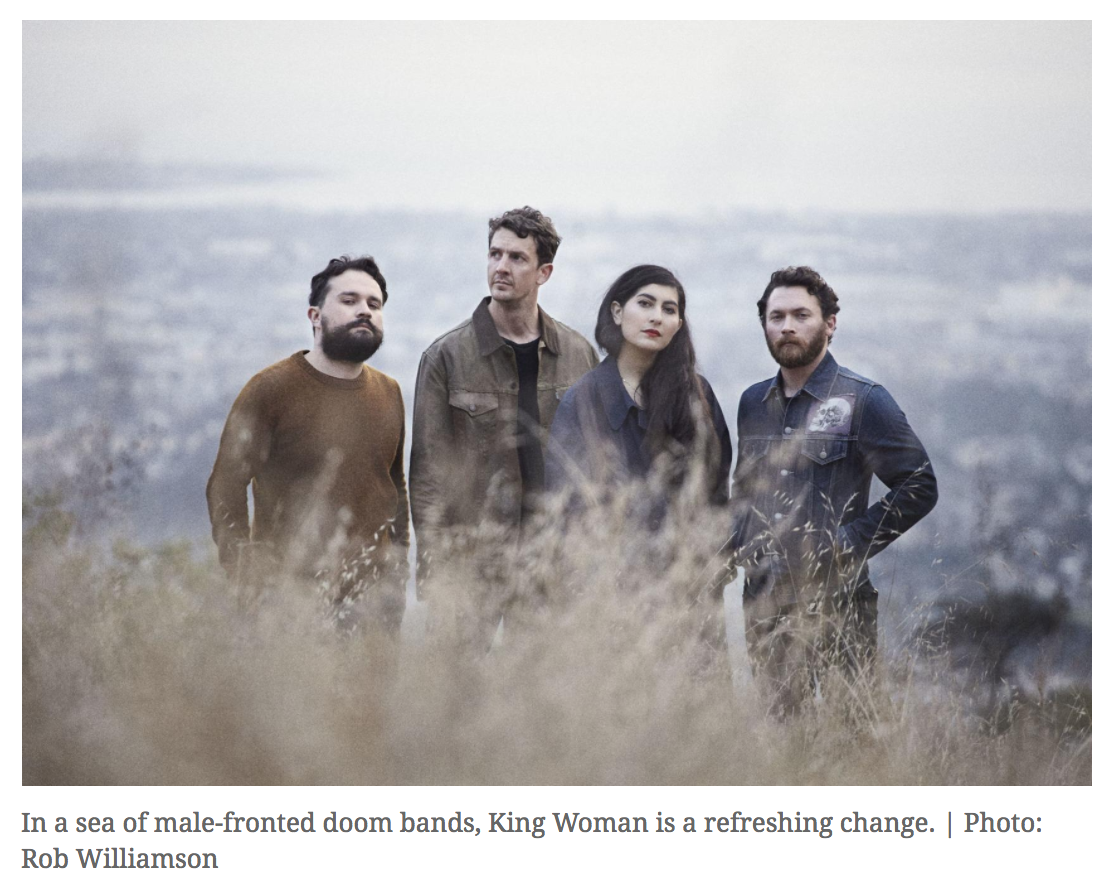 This weekend marked the return of King Woman, a shoe-gazing doom metal band that surely burst some eardrums and broke a few hearts. Fronted by Kristina Esfandiari, the band offered up its heavy sludge with a softness and sadness that was shrouded in layers of fog machine clouds. 
At the Bay-area band's Union Transfer show, where they opened for Russian Circles, it was impossible to stop watching Esfandiari. Her voice was low and husky – sometimes she was whispering lyrics like incantations, then howling "You can't even look at me," into the microphone as the music swelled behind her.
At Union Transfer, the band moved through songs off of their hit LP Created In The Image of Suffering. "Shame" and "Manna" were highlights of the set, with the latter closing out the show as Esfandiari writhed on the floor, screaming into a microphone. Later, she tells me via text that she's been battling a sinus infection on tour – which made the performance all the more impressive. 
Esfandiari told Rolling Stone a few years ago that much of her work in King Woman is informed and inspired by her experience growing up with "a charismatic Christian church" where she saw disturbing exorcisms and emotional manipulations at a young age. The exploration of those themes continues through the bands' latest releases. When I ask her about religion now, she seems to have found some peace. 
"There was a point where I was very angry and you can feel that in 'Doubt' [the first King Woman EP.] I've grown more at peace with my past and can see beauty in my experiences," Esfandiari said. "They've made me the powerful force that I am today and I wouldn't change a thing about my story. I suppose I was working out some of my confusion, pain and anger in song form."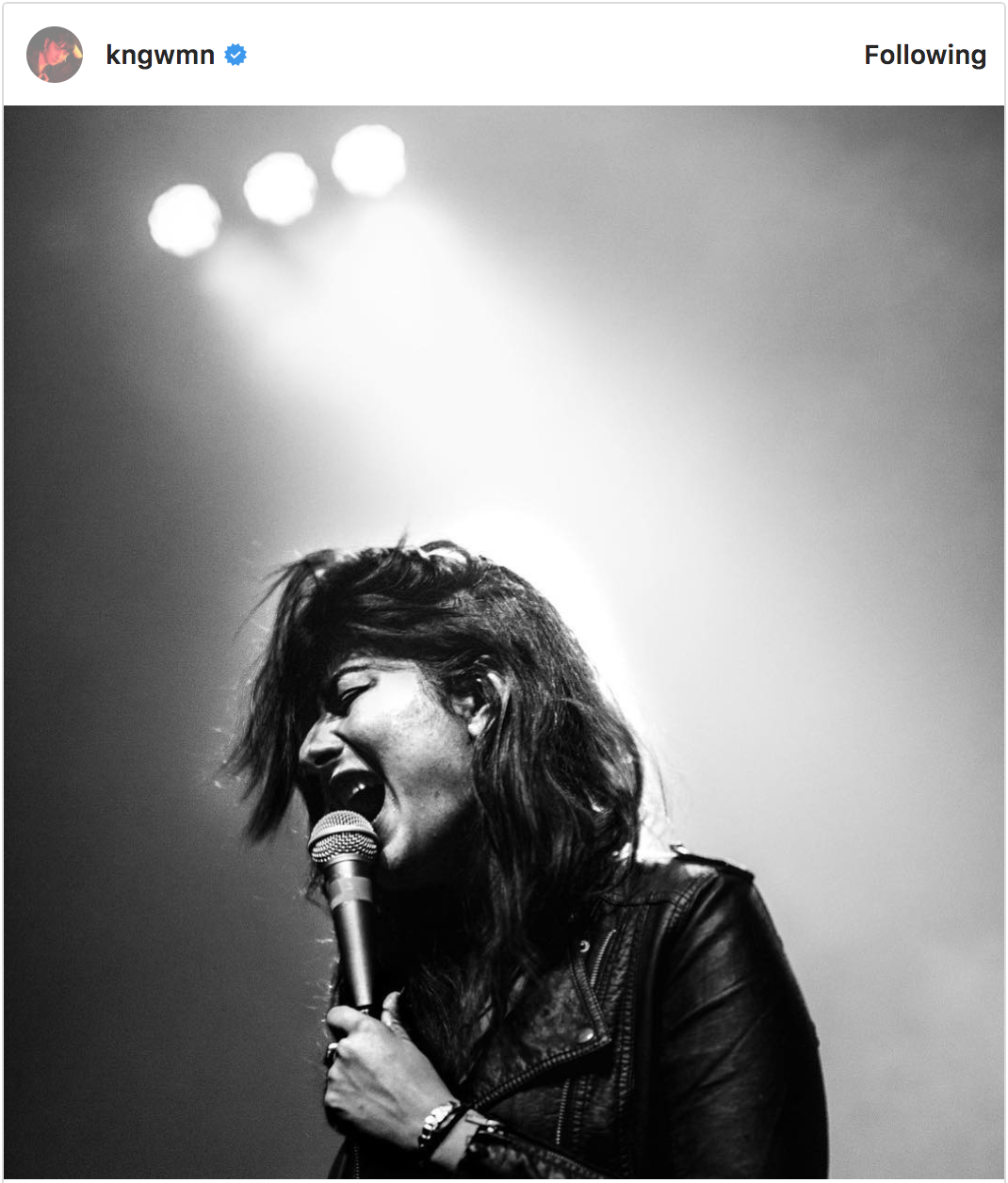 Even when the band isn't playing their own songs, there is a yearning to Esfandiari that's hard to look away from – in the band's cover of The Stone Roses' "I Wanna Be Adored," the band lets the momentum build until Esfandiari is repeating the titular lyric with a desperation that will stick in your head for days. Similarly, the song "Hierophant," one of the bands' most compelling, sees Esfandiari repeating lyrics that become hymns turned on their heads. Lyrically, she's often exploring themes of religion gone wrong or love turned sour, but she does so with a sparseness that doesn't turn melodramatic. 
"Usually, when I'm writing lyrics, it all comes from my soul. I just write what I'm feeling or a word catches my attention and I have to work through it. It all feels very natural, intuitive," Esfandiari told me. "I also like the idea of turning something fucked up [like religion] into a beautiful song or bringing scriptures to life through a song, putting my own spin on it. Somehow it makes me feel like I've reclaimed something lost. It feels nice to manipulate the scriptures that were once used to manipulate me." 
There's a part of me that wants to get inside of Esfandiari's head, so I ask her who has been inspiring her lately – and the list is dynamic. 
"I've been reading a book called Ecstasy that's about reconnecting with myth and Gods, mainly Dionysus. I'm also really inspired by the artist Noelia Towers, who is on tour with us. Everyone should check her out," Esfandiari said. "Also my friend Nedda Afsari is an amazing photographer. I just did a Goddess-inspired photo shoot with her for a project she is working on. It felt very empowering and sexually charged. Films? I'm on a Wong Kar-wai kick." 
I've always been drawn to the band largely because of Esfandiari's strange, vibrant poise. In a sea of male-fronted doom bands, she is a refreshing change – at turns manic, head-banging, and intensely longing. 
"It took me a while to get out of my shell [on stage]. But once I realized I was a performer, it just kind of spilled out naturally," Esfandiari said. "I'm a very animated individual. My two favorite performers are Yves Tumor and Nick Cave. Performing feels like bliss. I feel so much love for the crowds, and I just want to experience connection ... share it with the people in the room. Sometimes I play shows and I just think to myself, 'Wow these people took time out of their schedule just to experience this.' It's humbling."